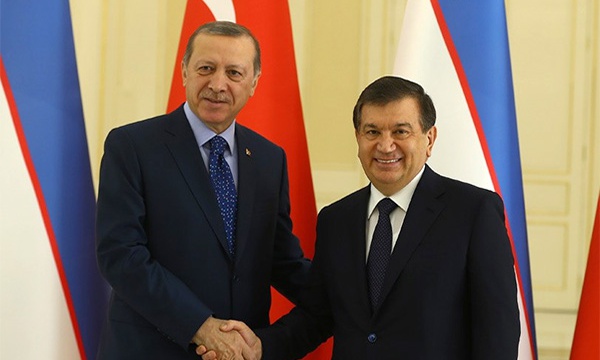 Photo: UzDaily
On October 25, 2017, Uzbek President Shavkat Mirziyoyev visited Ankara since 1999 for a two-day official trip. During the visit, they signed 30 agreements, worth $3.5 billion between the two countries.
Turkey is the first country which officially recognized the independence of Uzbekistan after the collapse of the Soviet Union in 1991. The diplomatic relations were established between two countries on 4 March 1992. Although the diplomatic relations were started earlier, the relationship between the two countries had deteriorated within a decade. The breakdown in these countries was started because of Turkish schools which belong to Fethullah Gülen.
However, during the meeting, the President of Turkey Erdogan reported that 'This is the first visit at the presidential level in 20 years. Therefore, it is highly significant and meaningful for us'. It is also supported by Uzbek President Shavkat Mirziyoyev said that 'After 25 years, we highly appreciate Turkey's big reforms, Turkey's finding its level in the international arena, and Turkey's affairs in public diplomacy. Uzbekistan and Turkish parliaments were ready to accomplish great things'.
In the meeting, cooperation between Uzbek-Turkish in the political and economic sector, and other important fields were discussed. Therefore, the Uzbek president signed a decree about simplifying visa requirements for Turkish people.